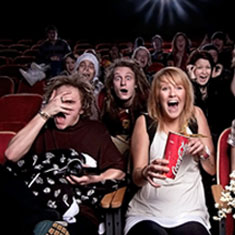 Film: mirror and illuminator of our world
When individual, static images are joined together to form a moving picture, something magical happens. Before our rapt eyes, a world apart from ours (yet somehow intrinsic to it) comes to life. Film, since its earliest days, has been a source of fascination. With the advent of the motion picture industry in the early 20th Century, this alchemy of science and story-telling is a defining artistic moment of modern humanity.
Whether we're children, wide-eyed in the thrall of an animated feature, or adults pulled into a tale of high drama, film is a window into ourselves. We see pieces of our own lives unfolding in film. When Scarlet O'Hara fashions a frock from the draperies of Tara, we cheer her courage. We've had our challenges, too. When Humphrey Bogart bids Ingrid Bergman farewell on the lonely tarmac of a long ago airport, we feel his loss. We've loved and lost, too.
These stories, through time, have become our stories. Cultural artifacts which speak to us across decades, films are not only a remembrance of things past, but an illumination of our own times and how we came to this place. Through the miracle of motion pictures, humanity has been gifted with these living artifacts, capable of transporting us to places we might never have known without them.
In our day, documentary films have become vital vehicles for social change. But it's not only the documentary form that has wrought great social progress. Films like Judgement at Nuremberg, by the great Stanley Kramer and Twelve Years a Slave, by Steve McQueen, have brought painful historical realities into the public square for consideration, in the form of story-telling. Where the reach of newspapers and magazines falls short, the medium of film touches millions, reaching hearts and minds; helping to bend the moral arc of the universe toward justice
Art has that power. The power of the art and science of film to color and even change our perceptions, to move and to uplift is unrivalled. The points of encounter for our relationship with film have only widened, with the advent of television and the internet. These forums have enhanced the role of film in our lives, bringing its multi-faceted narratives to us where ever we are. An integral and beloved part of our modern lives, film is here to stay – to walk with us through the world as its mirror and illuminator. As a defining artistic accomplishment of modern humanity, every one of us has been touched by the enchantment of film. Its ability to inspire, educate, explain and entertain is unparalleled.
In its illusion, more real than reality itself, the world that opens before us in film is our world. Writ larger than life, yet small enough to project ourselves into, film speaks not only to, but with us. At Another Life, we believe in the power of film. We lift it up as the cultural archive of modern times. We hope you'll join us in celebrating film's role in the modern world and in sharing its many riches.